TBConsulting and ServiceNow Assisting Your Team's Response to COVID-19
TBConsulting not only supports ServiceNow applications, we are also a ServiceNow customer, so when they recently released free applications to help businesses like ours during these difficult times, we took advantage of this offering. With so much changing, TBC knows that it has become difficult for teams to communicate crucial information. ServiceNow has released four free apps for their customers to help; we are focusing on their Emergency Outreach application.

ServiceNow's Emergency Outreach app can benefit your team by sharing crucial information, and allowing employees to report health statuses and location. This application empowers ServiceNow customers to do the following:
The ServiceNow Emergency Outreach application allows you to quickly communicate with employees within your organization and assess their health status.
Uses Email to encourage employees to voluntarily report if they are symptom free or developing symptoms with mechanisms they are already familiar with using.
- Well: I do not have symptoms of a fever, cough, or shortness of breath
- Symptomatic: I have symptoms of a fever, cough, or shortness of breath
- Diagnosed: I have been diagnosed with COVID-19 (verified test)
- Exposure: I do not have symptoms but I have been exposed to someone
experiencing symptoms of or diagnosed with COVID-19
- I'd prefer not to say
Notifications can be customized with any message and utilize corporate branding.
This data then gets compiled into ServiceNow for easy visibility and reporting.
Out of the box, a dashboard gives executive teams, HR or managers an overview of how their organization is doing: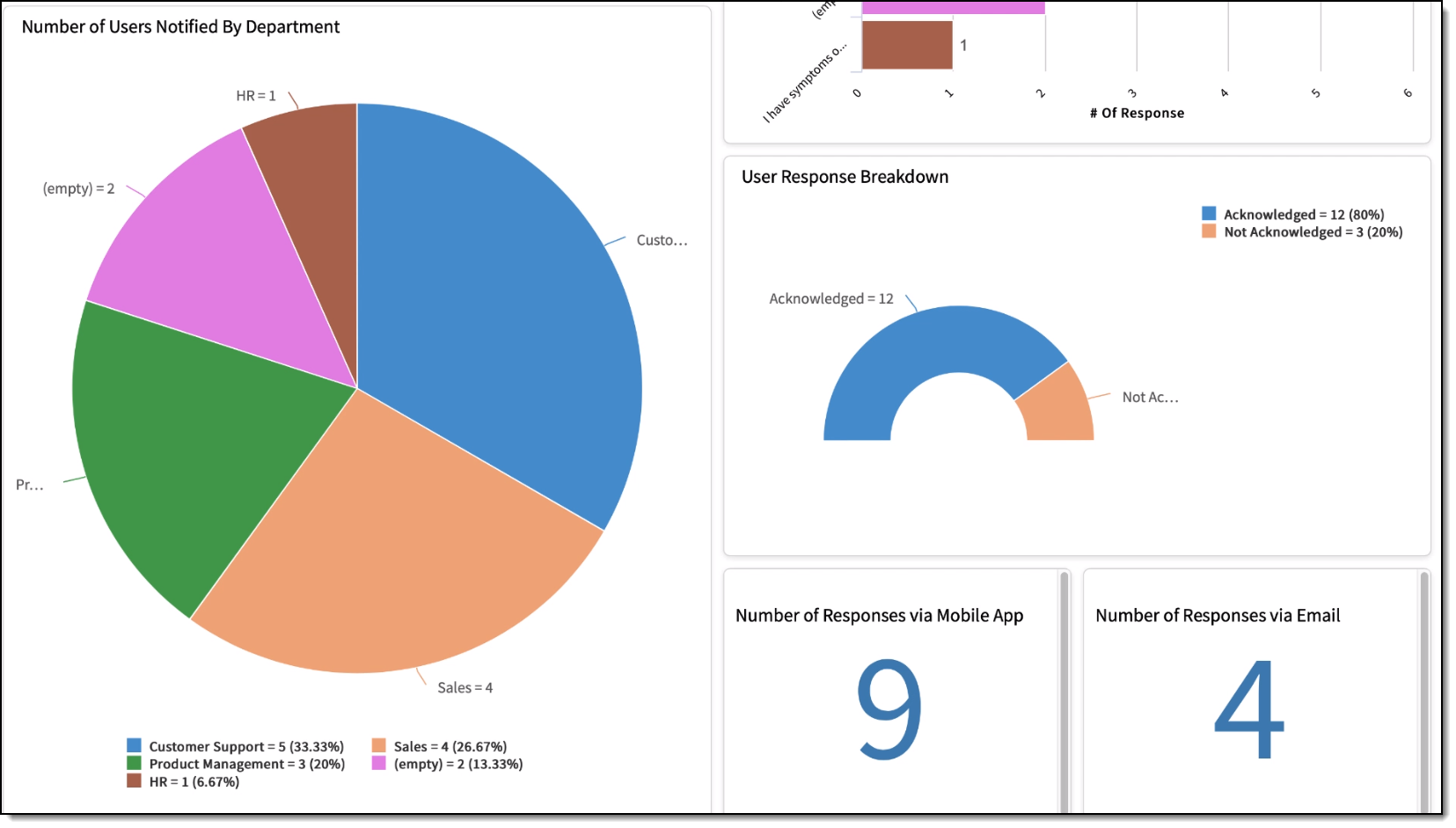 This, along with other applications for COVID-19, are already available in all non-production ServiceNow instances and can be requested, free of charge, from ServiceNow until September 30th, 2020. For more information on how we at TBC are leveraging this implementation, fill out the Contact Us form and we will get right back to you!